This pandemic is driving more eyewear sales online than ever before. Our eCommerce clients are seeing a 30-40% increase in traffic and my conversations with our key clients confirm similar sales increases since April.
Eyewear brands and retailers see building a new eCommerce store (or improving an existing one) as a way for them to expand their business model beyond brick-and-mortar, increase their profit margins and appeal to a larger audience.
According to eMarketer, global online retail sales are expected to reach $5 trillion by 2021, so expanding with eCommerce is a smart marketing strategy.
For those that haven't already expanded into eCommerce, they know that it needs to be part of their strategy. I often hear "I know I want to build a transactional online store to compliment my existing business, but I'm not sure where to start."
Given the surge in eCommerce traffic and clients asking how they can leverage this opportunity, I'm compiling some information here to help.
In this post, we'll cover platform options, key components that are relevant for the eyewear category, and the major considerations you need to make to build a successful eCommerce website.
How to Get Started with your Eyewear eCommerce Site
After you've decided you want to move forward with building a new eCommerce site, the next decision is deciding whether you want to build, maintain and do fulfillment with your in-house team or if you want to find a partner with a turnkey offering that can do much of that work for you.
Turnkey Optical eCommerce Platforms
There are a few groups who have built eCommerce platforms specifically for the sale of prescription glasses and contacts. Some of these partners layer in various services to create more turnkey offerings. 
Ditto has strong partnerships with three of these eCommerce solutions: PremiumVision (owned by 1-800-Contacts), ACLens (owned by National Vision), and Ocuco (independent).  
Each of these groups will create a white-labeled eCommerce site for clients on their respective proprietary platforms with the eyewear-specific features mentioned below already built-in.  
In addition to building the new site, Premium Vision and ACLens provide a varying degree of turnkey services ranging from site maintenance, Rx verification, customer service, and supply chain fulfillment for both glasses and contacts.  
Ocuco is a more traditional technology partner and doesn't offer turnkey service and supply chain services. However, they have a robust Practice Management Software and can help with integrations, including Ditto's technology.
These partnerships make sense for groups without in-house eCommerce expertise or where eyewear is not their core business- like large multicategory chains or pharmacies. 
If you're interested in having a turnkey eCommerce partner, let us know and we can help make introductions and find the group that best serves your needs.
Picking an eCommerce Platform
If you decide to build your own eCommerce site, we recommend starting from an existing eCommerce platform.  
The eCommerce platforms have become very robust in the past decade and can handle businesses with complicated needs (integration into existing back-end systems, multiple languages, multiple currencies, etc).  
There are only a few types of clients that we see needing a custom platform, including those with huge volumes (several hundred million of annual sales) or large conglomerates supporting dozens of banners.
Ditto focuses its development on advanced technologies (computer vision, AI, ML, etc) to build the leading Face Insights, Frame Recommendations, and Virtual Try-On platform.  
Our technology is built in such a way that it can be integrated into any eCommerce platform. We fully host just our iframe with our technology which is embedded in our client's eCommerce sites. 
As such, we've worked with many eyewear businesses and have experience working with a wide range of popular eCommerce platforms including but not limited to Magento, Hybris (SAP), Shopify, BigCommerce, Netsuite by Oracle,  WooCommerce, and CommerceCloud by Salesforce.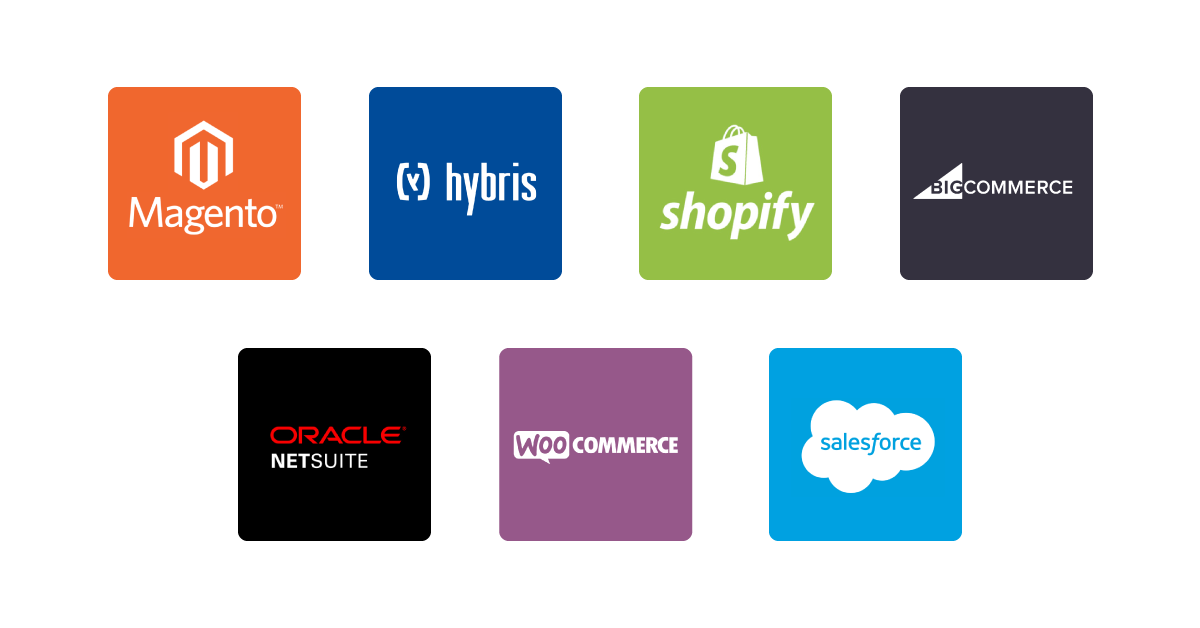 In recent years, we've seen a big shift towards Shopify for smaller clients with online sales <$25M (and a few over that with volumes up to $100M).  Shopify has nice off-the-shelf templates and is a great way to get started. 
If you want an enterprise solution, we've seen our larger clients gravitate towards Hybris or CommerceCloud. 
To our knowledge, all of the sites over $200M of online sales are custom-built, particularly if they are supporting multiple sites.
eCommerce Site Customizations and Content Needed for Eyewear eCommerce Sites
Once you pick a platform, you will need to do a number of customizations given the unique aspect of selling prescription eyeglasses online. There are also some eyewear-specific pieces of content, data, and imagery that you need to be successful.
Here are some common site customizations and unique content needed specifically for eyewear eCommerce sites:
Frame Discovery Content or Personalized Frame Recommendations

Robust Filters for your Shelf Pages

Virtual Try-On

Extensive Product Imagery

Prescription and PD Capture

Prescription Lens Selection and Verification

Vision Insurance
The first three apply to sunglasses and readers brands and retailers. All of them apply to prescription glasses brands and retailers.
Frame Discovery Content or a Personalized Frame Recommendations 
Customers struggle with frame selection on eyewear eCommerce sites that have product pages with more than a few dozen frame options. 
The sheer number of frame options makes it extremely overwhelming and hard to find a frame that works for their prescription, fit, and style. 
In stores, customers often have a lot of help from store associates and opticians to find the right pair of frames, so it's important for store owners to recreate this experience for customers on your site. 
We recommend creating content that helps your customers with frame discovery and/or leveraging a frame discovery platform like Ditto's Frame Recommendations. 
Relevant content can include things like a face shape guide. It might also be tools that let customers enter the measurements of their existing frames to see which frames available have a similar size or content that gives advice on the types of glasses and lens combinations that will work for different prescriptions.  
While useful, this approach puts the onus on the customer to learn which can create friction. We've built our Frame Recommendations offering to recommend frames for a customer based on a facial scan and their prescription information. 
Once we know what frames will fit a customer's face and work with their prescription, we show them several shapes that flatter them. They can add their personal style preferences to hone in the results and easily discover the pairs that match their fit, prescription, and style.
Ultimately, this results in higher customer satisfaction, increased sales, and lower returns.
Robust Filters on your Shelf Page
Customers often use the Shelf Page (some call this a Category Page) to compare frames and do discovery. Given the large frame assortments on many sites, it's imperative to let the customer hone in on a pair of glasses they might like with filters.
One challenge for business owners that sell multiple designer brands is getting accurate data to support filters for things like frame width, eye size, bridge size, frame shape, frame features, and colors.  
Frame manufacturers have their own data but we've found they aren't consistent from frame manufacturer to frame manufacturer (and sometimes even brand to brand within the same frame manufacturer).  
Ditto has built the world's largest database of scrubbed, accurate frame data. This data can help power the filters on your shelf page.
Virtual Try-On
At Ditto, we started our business to solve the issue of fit for eyewear eCommerce. It's not a nice-to-have feature, it's a must-have feature given how important fit is to the purchase of glasses.
When customers shop for eyewear online, they want to be able to see the look and fit of the glasses on their face. Virtual try-on allows you to achieve that. With the ability to see the look and feel of the glasses on their face with realism, customers gain the confidence they need to buy. 
In addition, solving for fit through virtual try-on speeds up the purchase process and decreases the propensity for returns.
To learn more about Ditto's Virtual Try-On technology, see our demo page.
Extensive Product Imagery
For optical retailers looking to launch a new eCommerce site or improve an existing one, high-quality product images of frames are a critical element to driving conversion. 
Eyewear has many details so many angles and shots are required. I've seen some sites with just two product images per SKU and this isn't enough to be successful.
Additionally, traditional photography is challenging for eyewear because of the reflective nature of the lenses, transparent acetate colors, and tiny, intricate details including embellishments, logos, and hinges.  
Ditto can help by providing you with digital product imagery, also known as rendered product imagery (RPI). 
These are images rendered from a pair of digital glasses (i.e. 3D virtual replicas of physical glasses made with 3D software) and are better able to capture a detailed, comprehensive view of the frames. 
Digital product imagery replaces traditional product photography for eCommerce, marketing, and other use cases. You can read more about our Rendered Product Imagery offering.
Prescription (Rx) and PD Capture and Verification
The Rx checkout flow is a unique element of the eyewear shopping experience and can create friction especially if the customer doesn't know or have their prescription readily available.
For customers who have their prescription, it's important to add a step in the checkout process that allows you to collect Rx information. There are a number of ways you can do this:
You can have the customer enter their prescription manually.
This is easiest to implement but the most difficult for customers to do and can be a major source of friction to conversion rates. Customer's often don't have easy access to their prescription and the information is confusing, so error on entry is common.

 

You can have the customer send you a picture of their prescription.
This is slightly easier for the customer but still assumes the customer has access to the prescription and can navigate the uploading process.

 

You can ask for their doctor's contact info and create a workflow to get the prescription directly from the doctor.
This is far easier for the customer and will lead to an increase in conversion rates. However, it's more complicated and expensive on the back-end as you have to build a workflow that automatically or manually contacts the doctor and follows up as needed. 
We recommend obtaining a eSignature from the client on the documentation you plan to send to the doctor. Most doctors only accept fax, so you will also need an e-fax solution with the customer's signature for them to release the Rx for lens fulfillment. 
Obtaining Pupillary Distance
One additional consideration is that many prescriptions do not have the pupillary distance ("PD") which is a key measurement when creating prescription lenses. 
There are some virtual PD tools you can use to calculate the customer's PD online.  We are aware of two PD tools currently available for eCommerce sites: one from 6over6 (recently acquired by 1-800-Contacts) and one from Fittingbox. 
Based on our testing, both tools use a frontal photograph of the customer and a reference object like a credit card to calculate the scale. Fittingbox also requires manual mark-up of the irises and corners or the reference object which can introduce human error. 
Because they're using a 2D image and not a 3D head for the calculation, there is also some technical error introduced if the reference object is in a different plane than the customer's eyes. 
We have found this can be a few mm off which isn't good enough. The general rule of thumb is that you need to get PD within +/- 1mm of accuracy to be trusted by the customer and reduce the risk of returns and remakes.  
Both 6over6 and Fittingbox charge the retailer on a per API call basis. Most retailers make this call only on a transaction so expect a several dollar charge per transaction for these tools.
Ditto is launching a pupillary distance ("PD") tool early in 2021 to address this. We have a 3D model of the customer's head and automatic detection, eliminating the need for manual markup.  We believe this will make us the most accurate PD tool available. 
For customers who don't have their prescription, you can either have them guess (which can lead to extremely high returns and is not recommended from a health perspective) or you can recommend they go get a new exam and come back. 
Obviously the risk is that they never come back. There are some new online, physical, and telehealth tools available for customers to get virtual eye exams.  I'll be writing more on these in the coming months and I believe they will be key to reducing friction for eyewear eCommerce sales in the coming years.
Prescription Lens Selection
Another unique aspect to the eyewear eCommerce checkout process is prescription lens selection. Fundamentally, the prescription lens selected needs to match the customer's vision needs. 
Beyond that, there are multiple materials (CR-39, polycarbonate, high-index plastics, etc), indices (thickness of the lens) and coatings (anti-glare, anti-reflective, photochromic, blue-light, tints, etc) to consider.
Customers don't deeply understand lens options and can quickly feel overwhelmed. Coatings and add-ons can contribute to this overwhelming feeling. Most eCommerce sites ask the customer questions and guide them through a lens selection journey. 
We also recommend creating a few simplified lens bundles to make this process easier and limit the number of add-ons which is likely to result in higher conversion rates.
Vision Insurance
According to the American Optometric Associate, about 60% of Americans also have vision insurance and want to be able to use that insurance when purchasing glasses online just like they do in stores and doctor practices. 
Value-oriented eCommerce sites often have customer bases that don't have or don't depend as heavily on vision insurance which is one reason they have done so well in the last few years. 
The two largest vision insurers are VSP and Eyemed. Customers who want higher-end frames and lenses paid for by their vision insurance will find they have only a few online eCommerce options run by the groups who own the large vision insurance companies. 
It's challenging for other eCommerce sites to get VSP and Eyemed to agree to do in-network verifications, but Versant Health and other vision insurance groups are starting to allow more eCommerce sites to do them. 
In general, I think this will ease in the coming years with more sites being able to offer in-network vision insurance verification checks for eCommerce customers. eCommerce sites can also make out of network reimbursements easier with prefilled forms, and new providers like Anagram have emerged to make this easier.
Standard Website Optimizations
In addition to these eyewear-specific customizations to your website noted above, there are a number of important optimizations needed to make your site a success. 
Check out our other post on how you optimize conversion rates on your eCommerce site for more information on how to attract new customers with your eCommerce store.
Conclusion
If you are an eyewear brand/manufacturer, optical or sunglasses retailer, or eye care professional without a transactional eCommerce site today, it might be time to take another look and figure out how you create a compelling eCommerce experience to attract new business.
We'd be happy to set up a time to talk with you and share our knowledge on partners, platforms, site customizations, features, and optimizations to help you build a successful eyewear eCommerce business.